The City of Toronto currently lists, as of Jan 2019, about 140 individually named neighbourhoods, from Agincourt to Yorkdale (there's no official neighbourhood name starting with a Z so there's a marketing opportunity waiting).
I was thinking about that the other day, when my mind was wandering as I walked. Why was my mind wandering? Because I was in familiar territory, only about a km from my home. Why was it familiar? Because it was "my neighbourhood". That got me thinking about neighbourhoods, and what they represent. There's a personal sense of neighbourhood, the comfort you feel in familiar surroundings. There's also a more civic sense of neighbourhood, of enabling a group of people who live in an area to have a sense of pride in that place. "I'm from the Beaches" someone will say, and you'll know where that is.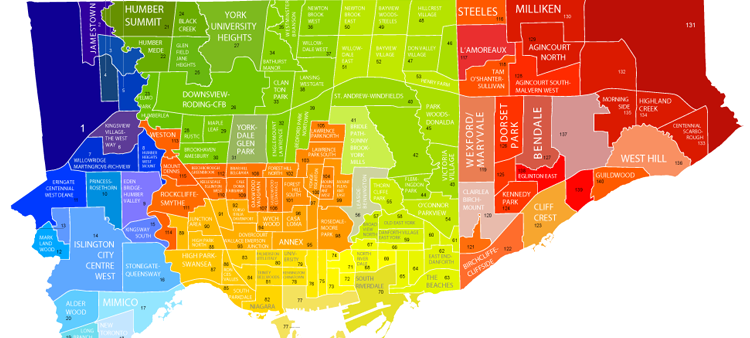 All those neighbourhoods are also a challenge. As I noodled on neighbourhoods I thought, how many have I walked through, at least in part? If I credit myself for "visiting" a neighbourhood if I walked at least one block there, then what's my score?
It turns out that as of Jan 2019, I think it's about 60. I walk a fair amount, averaging 60 km a week, but Toronto is pretty big (about 800 sq km) and like most people I have my favourite walking routes, so unless I set out to visit a particular neighbourhood I'm not likely to travel through it when just out for a walk (sorry West Humber-Clairville).
Still, that got me thinking that it's not even half of the official neighbourhoods of Toronto. That's a challenge. How long will it take me to get to 70? To 100? To all 140? Will the city add/define more before I get there?
Over the next year or 2 I'm going to see how many I can cross off my list, and I'll come back and update this post. In the meantime, I'm going to continue enjoying my neighbourhood, and the comforting feeling of belonging.